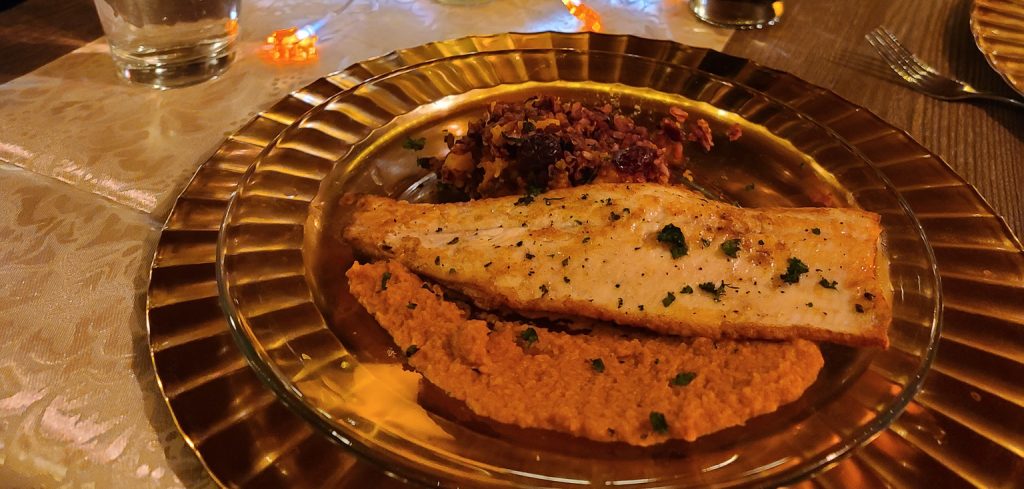 Sitting in the mountain town of Bailey, Colorado is a small yet charming board game cafe called Tony's Coffee Shack and outside next to it sits the food truck that started it all. A little over two years ago, Tony's Coffee Shack, once Tony's New York Sammies Food Truck started serving up some of the best breakfast sandwiches in the area! After a successful couple of years in Bailey, Tony's Sammie's set up shop next to what was previously a small coffee shop off of Highway 285 and started serving coffee indoors, a perfect place to wait while they cooked up your hot breakfast sandwich!
It wasn't long before they started offering some other events, like Board Game Nights, that offered local residents the chance to come in, relax, enjoy some good food and good old-fashioned board games. Then came the idea for a unique evening where you could enjoy a full-course meal crafted with local Chef Renee DePew, where you and your loved one could enjoy a dinner in a small and charming setting. Thus, the Bailey Date Night Club was born, and we were ecstatic to be invited to November's event to enjoy a 7 course Colorado Harvest-inspired dinner! We enjoyed this lovely dinner on a dreamy Friday night with some great company, lovely entrees among an elegant fall atmosphere.
Soaking in the Atmosphere
The sun has been setting so much earlier, so when we pulled up to Tony's Coffee Shack it was so dark, but the area was surrounded by the warm light coming from inside. We grew even more excited as we parked and walked up the stairs to head in as we could catch glimpses of the decorations within.
Hors D'oeuvre by Candlelight
We were greeted right away and taken to our seats. We sat down and began to take notice of all the wonderful colors and care that was taken to create this unique dinner space. As we sat down we were given our menus for the night, as well as cocktail menus filled with fun drinks like the Cinnful Sasquatch! Not long after, our waitress brought out our first beautiful Hors D'oeuvre!
Our first course was Dah diniilghaazh, a Navajo Fry Bread paired with a beautiful selection of seasonal fruits, vegetables, sliced meats and cheeses. The fry bread was fluffy, soft and absolutely delicious. My husband thoroughly enjoyed the various meats, while I devoured the grapes and cheeses! So good!
Joshua opted for a cocktail and went with the Cinnful Sasquatch! This drink featured a Tanqueray Gin so of course I had to grab a sip! As it reads from the menu "Apple cider is the star of this cozy, autumnal-toned drink. Honey syrup, aromatic bitters and a pinch of cinnamon create its spiced finish." I loved the cinnamon in this drink, definitely added to the autumn feel of the dinner and I can't resist anything with a spiced finish!
Enjoying our Three Sisters Soup
As we enjoyed our drinks and fry bread hors d'oeuvre we were given our next course, the Three Sisters Soup. Perfectly portioned, I delightedly scooped up every bit of this native american soup that "celebrates the fall harvests of bean, corn, & squash." Delicious and tasty indeed! My husband remarked about how much he enjoyed the squash! "Why don't we cook with squash more? It's sweet and rich." Well, I guess we'll be experimenting with this more at home now! Thanks Chef DePew!
Time for Colorado Green Chile!
One of my personal favorite entrees of the night was the Colorado Green Chile!
This chile sure did pack a punch in the absolute best way! I love all things spicy so I loved the kick of this soup, as well as the cornbread! The mix of sweet and spicy was the perfect blend of flavors to create a warm autumn feel for this chile. 10/10!
Magic Happening in the Truck
While we were enjoying our soup and chile, there was some magic happening in the food truck kitchen as Chef Renee DePew whipped up our upcoming dish, southwestern red quinoa salad! 
Southwestern Tabbouleh Red Quinoa Salad, So Good!
This was truly a dish I had never experienced before. The Southwestern Tabbouleh Red Quinoa was a fresh mix of diced red onion, celery, pinto beans, roasted chiles all tossed together with a zesty vinaigrette. The hint of chiles and red onion gave this light fresh salad a great flavor, and the chef-made corn chips were better than store-bought! Every flavor came together nicely in this light crispy salad, and it was striking to look at as well. The colors and textures were mesmerizing and danced as we ate.
By this time, you could hear whispers about what was coming next float around the restaurant for the night. You know what comes next right? The trout!
This beautifully presented and perfectly seared trout was brought out to us with a pumpkin puree on the side, as well as cranberry wild rice & savory roasted butternut squash. I couldn't help but gush to the waitress about how much the pumpkin puree complemented the trout, so much so I made sure to portion it perfectly for every piece of it!
At this point in the meal, I was pleasantly full but definitely looking forward to the last two courses of the night. A dessert and what's called Mignardise, or the Chefs' surprise final bite!
I was happily surprised when the dessert came out as a perfectly portioned piece of chocolate pumpkin cake with a bit of vanilla ice cream. The ice cream was just enough not to overpower the wonderful pumpkin and chocolate notes of the cake. No words were spoken as we all savored that unique bit of sweetness of the Choctaw Fall Cake!
Lastly, we were brought out the Chef's final bite! We were all thrilled when we were told we would be having a piece of apple pie with a slice of cheese, seared like a creme brulee! This was a treat my husband and I had never experienced before! I definitely was treated this night in Bailey as I had the chance to try so many new foods. The apple pie with cheese was a great way to finish up the night as it was slightly sweet with a bit of tartness from the cheese. Definitely left me wanting more, although at this point no more could fit, that'll have to wait till next time!
Thank you for an amazing evening!
After we finished our wonderful 7-course meal, Chef Renee DePew came in to let us know about the next Bailey Date Night Club, and to my delight, everyone cheerfully celebrated with a round of applause for our talented Chef and Staff for the night!
What a spectacular time my husband and I had at this month's Bailey Date Night Club! If you're looking to have a romantic evening with your significant other when you're in Park County, be sure to reach out to Becca at TonysSammies@gmail.com to book your reservation today! Your loved one will not be disappointed!
Spaces are limited so be sure to book your spot for their next December event happening the 9th & 10th from 6:30-9PM.
Lastly, we want to send a special shoutout out to the whole crew at Tony's Coffee Shack and Chef Renee DePew for the invitation to come and for a fantastic evening with some spectacular dishes! If you make it out to Bailey's Date Night Club, be sure to tag us on Facebook, Instagram or send us an email so we can see your shots! Until next time Park County Explorers!