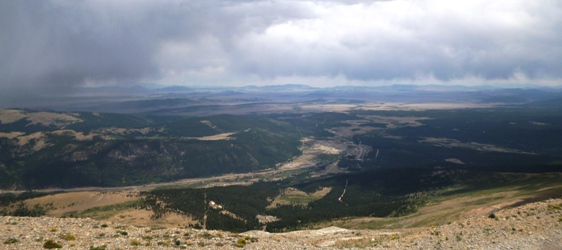 Park County has an average elevation of 9,000 feet above sea level, with Alma as the highest incorporated town in North America at 10,578 feet. Twenty five mountains rise to over 13,000 feet above sea level with four topping the 14,000-foot mark. Visitors should think and plan carefully when coming to these elevations. Medications, some foods, and especially alcohol may affect you differently than they do at lower altitudes.
Breathing Factors
Breathing can be more difficult at higher elevations. It is recommended that pilots flying at over 10,000 feet above sea level use oxygen. So, when you find yourself getting a headache while in South Park, realize that the amount of oxygen you're able to draw into your lungs with each breath is about 26% of what you get at sea level. Taking frequent breaks, drinking lots of water, and stopping or sitting down periodically during walks or exercise often helps people adjust more quickly to the elevation.
Early symptoms of oxygen stress are headaches, crankiness, upset stomach, and difficulty sleeping. Anyone can be affected by altitude sickness – fitness and age are seldom a dominant factor. If the symptoms increase or breathing becomes very labored, call 911 or go to a lower elevation to replenish your oxygen intake.